Now Grading Magic: The Gathering!
Greetings, planeswalkers.
Ever wanted to sling spells, command armies, and challenge your friends to glorious battle? Magic: The Gathering is, of course, a little bit of magic, but also the longest running card game from Wizards of the Coast. You can walk the dark alleys of Ravnica, sail the high seas with pirates on Ixalan, or even confront gods on Theros. Your journey through the Multiverse starts now!
Presenting a realm that extends beyond our imagination. From elemental wizards to formidable beasts, MTG offers a plethora of paths to victory, and each card is a story waiting to unfold. Whether you're a Vorthos enchanted by the lore or a Spike gunning for the win, are you ready to traverse the multiverse of Magic?!
Magic: The Gathering has also branched out into other realms through their Universes Beyond products. Explore Middle Earth with the recent Lord of the Rings expansion or delve into the Secret Lairs to discover the worlds of The Walking Dead, Doctor Who or Stranger Things.
We understand that Magic: The Gathering is not just a game — it's an experience that you want to preserve. The complexities, the mechanics, the ever-changing meta, and above all, the art — each card is a miniature canvas that tells a tale. From the Black Lotus and the Moxen, to Jace, the Mind Sculptor and Ugin, the Spirit Dragon, we know that safety is paramount for all of your collectibles.
This is why we're dedicated to offering you the highest level of service in grading your treasured Magic: The Gathering cards. With our specialized grading metrics for MTG, your cards will look more magnificent than a Kaladesh Invention!
Let's tap into the ultimate Magic: The Gathering experience with Ace Grading, and make Magic together.
At Ace, our team is a vibrant mix of avid collectors from various card game backgrounds. We've invested significant time in understanding the distinct characteristics and complexities of these games. As we've honed our expertise, we've concurrently been enhancing our systems and developing the Ace Labels.
Our commitment to excellence means we're equipped to handle the unique grading nuances of your beloved cards across a variety of TCGs. Whether you're a seasoned collector or a novice player, we believe you'll be amazed by how stunning your cards look once graded by Ace.
We're excited to embark on this new journey with you, inviting you to experience the Ace Grading difference.
We've been perfecting our craft over the last two years in the intricate discipline of card grading, with a dedicated focus on the hobby that formed Ace… the Pokémon TCG.
The Pokémon TCG is far from collecting cards on the playground when you were a kid. It's a diverse universe where your favourite Pokémon, from various generations, spring to battle. From the early Wizards of the Coast era, embodying the nostalgic memories of us all, to the current sets published by The Pokémon Company International, which explore brand new additions to the roster, and introduce exciting new mechanics.
What makes the Pokémon TCG our favourite is its unique integration of different Pokémon generations. The early Wizards of the Coast sets, for instance, feature the original 151 Pokémon, while the latest sets introduce us to the newest creatures from the Paldea region. Do you fancy using your Charizard against my Flamigo? Good luck!
The admiration for the Pokémon TCG in the global community is consistently growing. Its allure extends beyond the traditional gaming circles, captivating players who engage in competitive leagues, as well as collectors who are drawn to the game's increasingly treasured card sets, with cards like the Base Set 1st Edition Charizard being actual treasures. From the beloved Base Set, Jungle, Fossil, to the Ruby/Sapphire era, right up to the latest Scarlet and Violet sets, get yourself strapped in for a wild ride in the Pokéworld.
Our mission at Ace Grading is to accurately grade and protect these cherished pieces of Pokémon history, each card representing a fragment of the Pokémon universe, and you get to be a part of it.
At Ace Grading, we've dedicated the past two years to mastering the fine art of card grading, specialising in the world of Pokémon TCG. Today, we're thrilled to announce that we're expanding our horizons, venturing beyond familiar borders and stepping into an entirely new multiverse: Weiss Schwarz.
Weiss Schwarz isn't your average card game. It's a dualistic realm where your beloved characters from anime, mobile games, manga, and other media franchises come to life. Weiss, derived from the German word for 'white', and Schwarz, meaning 'black', represent distinct aspects of the game. Weiss channels the lighter, more playful facets, while Schwarz delves into the darker narratives.
What truly distinguishes Weiss Schwarz from its contemporaries is its unique integration of popular media franchises. Weiss sets, for instance, feature the well-loved Vtuber company, Hololive Productions, while Schwarz sets draw from thrilling series like Attack on Titan and Sword Art Online (SAO).
Weiss Schwarz's popularity in the Western world is steadily rising. Its appeal extends beyond the traditional gaming community, captivating hobbyists who have formed competitive leagues, as well as collectors drawn to the game's increasingly coveted card sets. These include popular franchises such as Star Wars, Marvel, Pixar, and the highly sought-after Disney 100 set.
Sometimes it feels like destiny… That's how we felt when we heard of the exciting Sidemen and Topps collaboration. The Sidemen, some of the biggest influencers in the world, have made a significant impact on lives around the world with their exploits, and their collaboration with Topps, a leading producer of trading cards, is just one more addition to that!
This collaboration isn't your average trading card collection, though. It's a unique blend of these YouTube superstars and traditional trading card culture, a fusion that brings your favourite Sidemen personalities to life with Topps cards. From their individual cards representing each Sidemen member and their GamerTag, to their special, limited edition releases like the Waterboy cameo, every card in this collaboration tells a story, offering a snapshot of the Sidemen's journey.
The stories that have been told in Sidemen videos across the years have resonated with millions of people. Whether that's the shock of seeing Harry kick a football at his mother's face, Vikkstar becoming a savage in Sidemen Tinder, or a group of UK based lads trying their hardest to figure out what's happening at a stage show in Benidorm, there are cards here sharing this insanity.
The demand for these cards has been incredible, with fans from all over the world seeking to collect them. At Ace Grading, we knew we HAD to grade these cards, ensuring their preservation for future generations of fans, and people who really do look up to these 7 internet legends. Whether it's a Greatest Moments, a Glitch, an autographed limited edition, we're here to make this special, maintaining the integrity of your Sidemen and Topps collection with our slick Standard Sidemen Labels. We even graded the 1/1 Golden Ticket card that gave the winner the chance to be in a Sidemen video!
The Akora TCG is a fast paced game based in the manga-style aesthetic, which makes sense, as they also have a tie-in manga series too! The world of Akora included ancient Alchemists that summoned creatures to battle each other, until it became too much for the world when evil got involved. Now… it's a card game!
The game consists of two decks, one where you keep different stages of your Akora, and your Alchemy deck, which is dictated by your Akora.
One of the things that makes Akora stand out, is that it has been created in the UK, and the team behind this game have been implementing their own spin on what makes a tabletop game good fun to play.
There are four main expansions already released, Spellbound Wings, Warped Crusaders, Afelium Unleashed and Grordhelm Uprising. We are very excited to see the evolution of the art style and the mechanics this team develops to create an incredible interesting experience.
One of the fastest growing competitive trading card games in the world right now is the One Piece card game, released by Bandai!
Characters from the entire One Piece universe feature in this game, from the anime to the movies, with some cards even taking choice iconic moments and placing you directly into that immersive experience.
Obviously, there is original art in there too, including much that has never been seen before, so if you're a One Piece fan, this is another way to see more of your favourite pirates.
There are Leader, Character, Event, Stage and Don cards, and although this game is a newcomer, there are already a range of different sets to collect, as well as lots of promotional cards from the events that happen around the world.
If you want to jump aboard with Monkey D. Luffy and sail the seas, make sure to keep your collectables at their best with Ace Grading, and then set sail to trade and compete across the planet!
The Dragon Ball Super Card Game features many of the incredible characters from the Dragon Ball universe.
Whether you're a Goku die-hard, or a Beerus fan, or a Frieza loyalist, you can use your Dragon Ball deck to wipe out your enemies in the style of Ki-based martial arts.
Have you ever wanted to recreate the showdown between Krillin and Chiaotzu, or face Vegeta against Goku, or even just show off the immense might of Broly?
In Dragon Ball, evolve your leaders into their true power, show off the Super Saiyan talents and abilities, and destroy everything with a Kamehameha wave.
With Dragon Ball Super, you can claim all of the Dragon Balls and if you ask Shenron really, really nicely, you might even match your fantastic cards with an Ace Label, showing off your favourite characters in style with Ace Grading.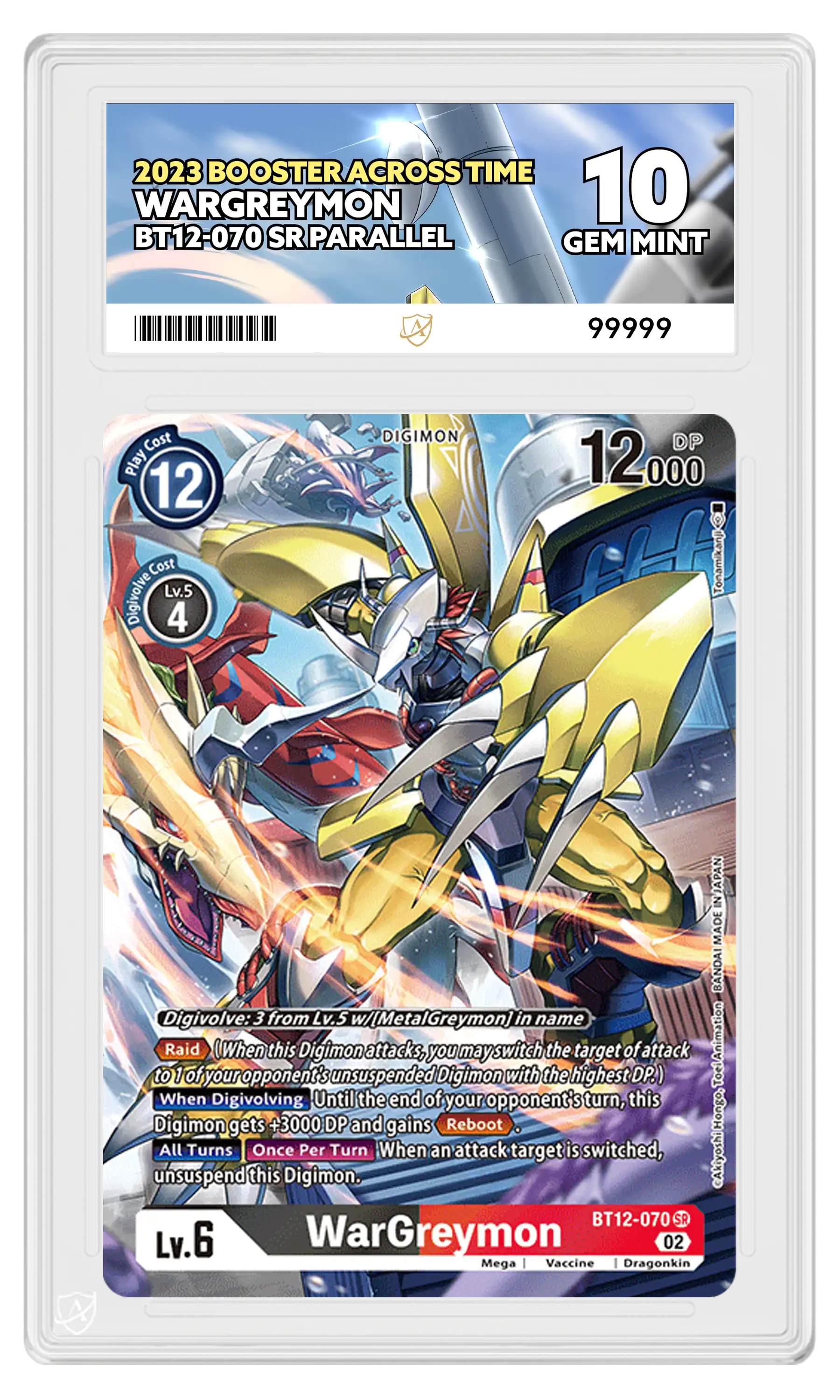 In 2020, the Digimon Card Game returned.
Are you one of the DigiDestined? If so, get your companion Digimon ready, as we're about to enter the battle area.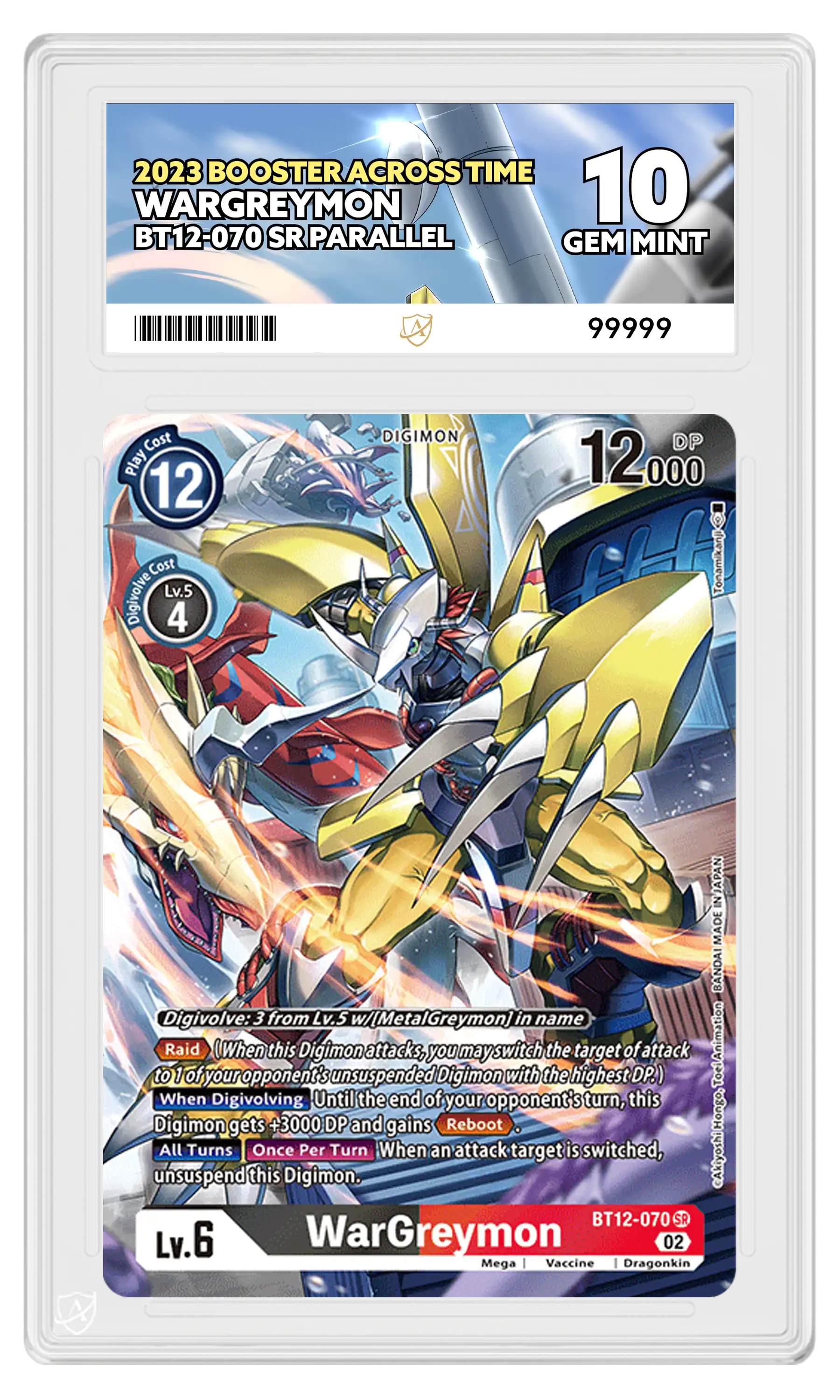 As you D-D-D-Digivolve and get stronger, gain new powers, and look just that much more awesome, you will fight to reduce your opponent to ash, swiping their Security Area cards off the table, and then removing the goggles from your head in the heat of victory.
Though there are a lot of people in the Digital World that believe a Digivice is the only way to secure your Digimon, we believe the best way is perfectly evaluating their condition, and then giving them the protective shell that they deserve, so your digital companions can stay just as fresh in the real world.
You have been summoned.
Your imagination has led you to many places, but none are as fantastical as the wonderful realm of Lorcana.
Grab the inkcaster, and start your journey into an interactive lore building adventure based around the massive world of Disney.
Whether you decide to stand with the likes of Mickey Mouse, or start your push-up training today to feel like Hercules, you will have the greatest race of your life to protect Lorcana and find the lore that has been lost.
Summon Glimmers, explore the Inklands, and collect Storyborn, Dreamborn and even Floodborn variants of all the amazing characters, and find out what cataclysm ever gave birth to the Floodborn insanity!
This chapter based story card game is a true masterpiece of collecting for any true Disney lover, and we can't wait to see more of the elusive, secret rare Enchanted cards!
More to come...
To stay updated on our expanding services and to know exactly when we'll start accepting your favourite cards for grading, keep an eye on our social media channels.